'Ezzy the Virus' helps children to understand viruses.
Young children below reading age can read it with their parents and older children should be able to read it themselves. This is
an educational book to help children and parents in the time of the Coronavirus pandemic.
'Ezzy the Virus' is my first book to write serious science at a level young children can understand.
The minute size of Ezzy is compared with other airborne particles like pollen grains and dust. I show how Ezzy makes copies of himself and which he spreads everywhere by making a human sneeze, and how Ezzy can be killed by sunlight, detergents and the human immune system if he settles in too long. Ezzy is very difficult for humans to get rid of since he settles on surfaces and floats in the air, which makes it very easy to jump from human to human in their houses and spaces where they like to eat and enjoy themselves. Ezzy although likeable is deadly to humans making them ill, and sometimes he can kill them.
I made this calculation at the beginning of the coronavirus pandemic, before scientists realised how much Covid transmission occurs via aerosols. It is the reason why I wrote 'Ezzy The Virus'
A single cough can contain 200 million virus particles (reference
livescience.com
). In a volume 1 meter cubed this could mean 200 million virus particles per metre cubed which translates in a room 2 x 2 x 2 meters (or 8 meters cubed) there will be 25 million virus particles in a 1 meters cubed space. In a bigger room 4 meters wide and height (4 x 4 x 4 or 64 meters cubed) there will be an estimated 3 million virus particles in a 1 meter cubed area. In other words if someone just coughs on the other side of a large room (without catching the virus particles in a tissue) then it is possible that everyone in the room will be exposed to air containing 3 million virus particles.
M
usician and Author, Ezra Williams, allowed me to use his 'childhood face' to create Ezzy. Click this link to hea
r Ezra talking about Ezzy the Virus
and his own books...
I was inspired to illustrate and write my first children's books about the adventures of two cats, following a suggestion by a friend when I posted pictures and comments about my Birman cats "George and Flora" on Facebook. The first book was inspired by George and Flora's kittenhood in Middlesex; and the second when the 'family' partly relocated to Cumbria; driving up the M1 and discovering rural life and wildlife. The adventures of George and Flora are unashamedly anthropomorphic; the cats relate to the humans and communicate with other animals about their feelings and the problems they face.
In
'The Old Village Cat'
, George and Flora learn there is a new world outside their safe home. Suitable for children aged 2-4.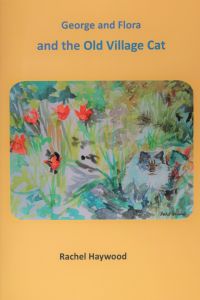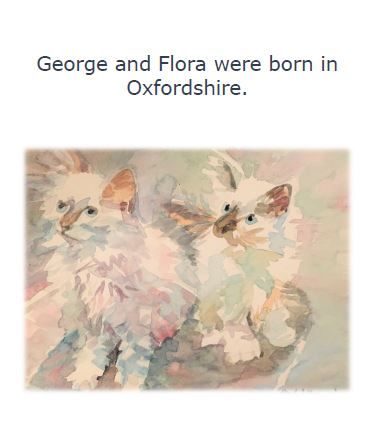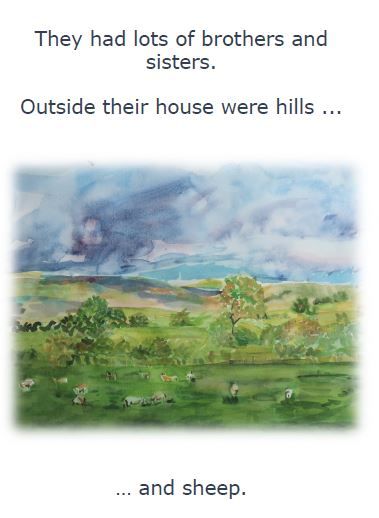 Author reads the beginning of
'The Old Village Cat'
.
In 'Storytime', the Old Village cat prepares the kittens for a new world outside
their safe home. Suitable for children aged 4-7.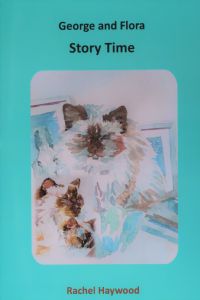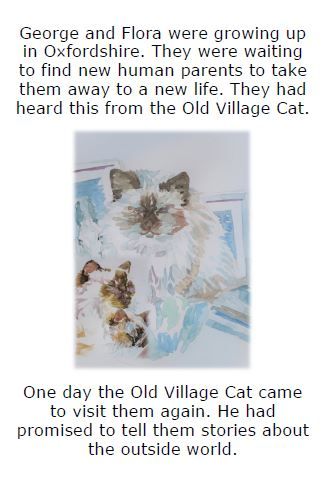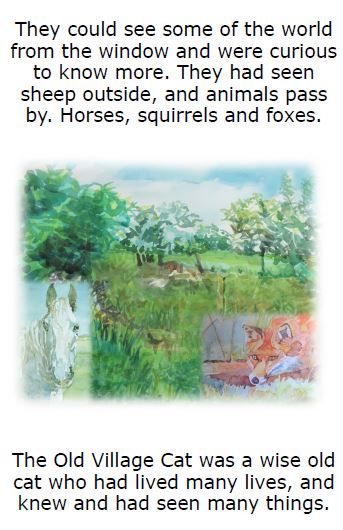 George and Flora are two cats who think themselves human.
In 'Beyond the Cat Flap'
the cats settle in to their new home and discover the neighbourhood. Suitable for children aged 7+ (and some adults).
In 'He
ad to the Country', we join them in their discovery of the Yorkshire Dales, meeting rats, horses, squirrels and the circus. Suitable for children aged 7+
Author reads the beginning of 'Head to the Country'.